Thriving in Sex Work: Money (book)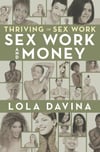 Secrets and silence swirl around money; sex work money doubly so. But sex workers can't afford to be mystified by their finances. Lola Davina, author of the Thriving in Sex Work series, offers a comprehensive, easy-to-follow guide to financial well-being for all sex workers regardless of income, gender, or job title. With her trademark warmth and wit, Lola shows you how to:
• Master your personal finances, even the yuckiest chores.
• Manage your time wisely, while earning what you deserve.
• Dismantle destructive thought patterns that cause you to overspend, undercharge, and give up your power.
• Share with loved ones without oversharing.
• Enjoy your work and love your life!
Thriving in sex work means a healthy body, mind, heart, and bank account. Packed with expertise, time-tested creative exercises, and personal stories, Sex Work and Money will help take your business to the next level!
Contributions by tax, legal, financial, and sex work experts Including:
• Writing the Perfect Ad by Taylor B. Jones
• Investing by Erin Lowry of Broke Millennial
• Internet Privacy by Violet Blue
• Combating Online Piracy by Jiz Lee
• Forming an LLC by Christopher Kirk
• Paying Taxes by Lori St. Kitts, The Tax Domme
• Understand What You're Signing by Conner Habib
AND MUCH MORE!
~ Lola's entire 'Thriving in Sex Work' series is so incredibly valuable, I asked her if I could sell them in my store. She's even pre-autographed them!
Save $10 when you purchase the complete "Thriving in Sex Work" 3-book set.
Share